History of Sex in Cinema:
The Greatest and Most Influential
Sexual Films and Scenes
(Illustrated)


Feature: Doris Wishman Films
of the 1960s and Later
The History of Sex in Cinema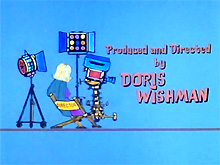 Pioneering Film-maker Doris Wishman
Prolific adult-oriented, self-taught, pioneering filmmaker Doris Wishman, known as the "Queen of Sexploitation Films," was responsible for many varieties of titillating underground films ("nudies", "roughies", and "skin flicks"). In some cases (among the approximately 30 films that she wrote, produced, cast, directed and edited), she had to take pseudonyms as male directors (Louis Silverman and Kenyon Wintel).
Wishman's films are now regarded as kitsch, drive-in quality pieces of vulgarity and guilty pleasure - paving the way for the films of Roger Corman, Russ Meyers and John Waters. She made 26 features between 1960 and 1977 - her first film was Hideout in the Sun (1960).
Her films over 40 plus years included first, a number of nudist camp films (a total of eight) in the 1960s. She took advantage of the fact that 1957's court rulings for The Garden of Eden (1954) (see earlier) had removed the "nudist film" from censorship. Hideout in the Sun (1960) was one of the first 'nudist' films to receive a legal release.
Wishman's Nudist Camp Films (Early 1960s)
The first five nudist films from Doris Wishman were:
Movie Title Screen

Notes


Hideout in the Sun (1960)

Tagline: "Escape...to a modern Garden of Paradise... where Nature's sun-kissed daughters walk forth in all their natural beauty!"

Facts: Shot in late 1958, and released in 1960 - Wishman's debut film, in Easman Color and Nuderama!

Plot: In the heist tale set in pre-1960s Miami, two bank robbers Duke Martin (Greg Conrad) and his brother Steve (Earl Bauer) fled into a nudist camp in Miami (before a plan to escape to Cuba via the ocean), accompanied by kidnapped and car-jacked Dorothy Courtney (Dolores Carlos) in tow (a member of the naturist club). They had to pretend they were nudists while hiding out, to avoid suspicion. As the film ended, Steve and Dorothy fell in love (amidst all the nudists and their activities).

[Note: Reportedly, the film was photographed in one of the largest and most beautiful Nudist Camps in Florida, The Sunny Palms Lodge in Homestead Florida, although later, this was refuted. Doris lied about it for legal reasons.]
Hideout in the Sun (1960)
Movie Title Screen

Notes


Nude on the Moon (1961)

Tagline: "And the Heavens Brought Forth the Wonder of Woman."

Facts: Wishman stretched the limits of censorship laws with this sci-fi nudie film, causing it to be banned in New York State. [Note: The shooting location was the Coral Castle in Homestead, Florida.]

Plot: Young rocket scientist Dr. Jeff Huntley (Lester Brown), after inheriting a fortune of $3 million, constructed a moon rocket with the help of the Professor Nichols (William Mayer). After landing on the moon, the two scientists came upon an alien world inhabited by semi-nude topless moon people looking like Power Rangers.During his expedition, Jeff fell in love with The Queen of the Moon (Marietta, in a double-role as both the telepathic Moon Queen and Jeff's secretary/love interest).
Movie Title Screen

Notes


Diary of a Nudist (1961)

Tagline: "Woman Reporter Poses as Nudist!"

Plot: The plot was described as such: "A Beautiful and Extraordinary Love Story - About a French Girl Who Joins An American Nature Colony." During a hunting trip, conservative newspaper editor Arthur Sherwood (Norman Casserly) of The Evening Times happened to stumble into a nudist camp. To write an expose on the camp in order to shut it down, he sent his female reporter Stacy Taylor (Davee Decker) to pose undercover as a nudist in order to report on the place, but she fell in love with the alternate lifestyle. Sherwood fired Stacy, and then took her place to expose the immorality of the camp himself - and found that he enjoyed it too.
Movie Title Screen

Notes


Blaze Starr Goes Nudist (1962) (aka Back to Nature)

Tagline: It was advertised as exhibiting "nature's carefree daughters in all their natural beauty."

Facts: Wishman's film was the only feature film starring the busty redheaded burlesque queen (as Herself/Belle Fleming).

Plot: Intrigued by the idea of a nudist camp, screen siren Blaze Starr (Herself) became a member of the Sunny Palms Lodge in Florida, and became close to the camp's accordian-playing director, Andy Simms (Ralph Young). When she looked like she might forsake or damage her professional career by missing out on press functions, her manager/fiancee Tony (Gene Berk) became worried.
Blaze Starr Goes Nudist (1962) (aka Back to Nature)
Movie Title Screen

Notes


Gentlemen Prefer Nature Girls (1963)

Tagline: "The elemental beauty of nature... so intimate, so revealing!" and "See what working girls do after a hard day at the office!"

Plot: This contrived plot was about a married nudist couple named Anne (Joan Bamford) and Tom Brooks (Lou Alexion) who worked in a real estate office with a very conservative owner, Mr. Bennett (William Mayer). Tom was fired when the owner of the company discovered that he was a nudist. Tom retreated to his naturist club, where he took over as temporary nudist camp director. He discovered that his real estate client Al Jenkins (Gene Burk) was also a nudist camp member. So the two plotted to see if they could change the mind of Tom's boss, by tricking him to come to the club.
Gentlemen Prefer Nature Girls (1963)
Wishman Films: 1963-1965 (Unavailable For Viewing)
Playgirls International (1963) (aka Playgirls of Nature) (lost film)
Described as a narrated "International Mondo-Sexy Dance Documentary"
Tagline: "A whirling twirling panorama of Nature's Playgirls in a new dimension!"


Behind the Nudist Curtain (1964) (lost film)
Tagline: "It's all new, and oh, so intimate…a private eye's discovery of what makes Nature Girls tick!", and "Filmed around the World and in Florida's Leading Nature Camps!"


The Prince and the Nature Girl (1965) (only available in German):
Tagline: ""A kingdom of girls is yours to behold!", "You'll flush, you'll blush, your head will spin when you frolic with the fairest maidens this side of Heaven!", "It's all New. What a Paradise…What a Fascinating Adventure!"
Wishman: "Roughies" (Mid-to-Late 1960s Sexploitation Films)
Next for Wishman in the mid-1960s came a series of grainy, B/W sexual melodramas or sexploitation films, sometimes called "roughies," in which violence and the gratuitous nudity of tragic heroines was depicted, but without explicit sex. These films played mostly in grindhouse cinema houses. Her second release in this genre and first official "roughie" sexploitation film was Bad Girls Go to Hell (1965) - about Boston housewife Meg (Gigi Darlene) who became a female fugitive runaway after accidentally murdering her buck-toothed janitor-rapist after making love to her husband and showering. She fled to NYC, changed her name to Ellen Green (allegedly from Chicago), roomed with a lesbian named Della, and claimed she was a dancer. She encountered more abusive violence and exploitative sex - but then woke up - was it all a dream? However, the cycle began to ominously repeat itself.
Wishman purchased O zestos minas Avgoustos (1966, Greece) - renamed Hot Month of August (1969) and Pyretos (1965, Greece) - renamed Passion Fever (1969) for $4,000 from a struggling film company while vacationing in Greece. Both of the "Adults Only" films were over-dubbed into English (with no regard for the original scripts which were lost) and added about 10 minutes of soft-core scenes (mostly nudity from body doubles with obscured faces).
The tagline for Hot Month of August was: "He blew her cool...She blew his...and her husband blew all in...". It marked the film debut of soft-core star Marie Liljedahl (credited as Ann) as a teen on the beach. And the tagline for Passion Fever was: "He hungered for the hunt....The ANIMAL...destroying every decent girl with INDECENT LOVE!" It added: "The Sweet Smell of a Woman...Any Woman! This was his HANG-UP!...a master at the game!"
Movie Title Screens (or Trailer Titles) - Wishman's "Roughies"


The Sex Perils of Paulette (1965)


Bad Girls Go to Hell (1965)


Another Day, Another Man (1966)


My Brothers Wife (1966)


A Taste of Flesh (1967)


Indecent Desires (1968)


Too Much Too Often (1968)


Hot Month of August (1969)
(aka O Zestos Minas Avgoustos (1966, Greece))

Passion Fever (1969)
(aka Pyretos (1965, Greece))
"Roughies" or Sexploitation Melodramas (1960s)

The Sex Perils of Paulette (1965)

Bad Girls Go To Hell (1965)

Another Day, Another Man (1966)

My Brothers Wife (1966)

A Taste of Flesh (1967)

Indecent Desires (1968)

Too Much Too Often (1968)

Hot Month of August (1969)
Wishman: Other Features (Early 1970s)
Movie Title Screen

Notes


The Amazing Transplant (1970)

Tagline: "His was the most unique of all... women DIED for it!"

Plot: In this Doris Wishman thriller, sexual encounters with women wearing gold earrings caused once-nerdy Arthur Barlen (Juan Fernandez), with a male penis transplant, to go homicidally crazy. In the opening, Arthur made love to - and strangled girlfriend-fiancee Mary (Sandy Eden) - wearing earrings. He went on to further uncontrollable rapes and murders of women with gold earrings. A detective named Bill (Larry Hunter) discovered why Arthur was a crazed psychopath with a fetish regarding gold earrings (with multiple flashbacks to many of his crimes). He learned from Arthur's transplant doctor, Dr. Meade (Bernard Marcel), that Arthur's well-endowed, recently-deceased donor-friend Felix had provided Arthur with his recent penis graft or transplant. Felix was a serial rapist who became beserk by women wearing gold earrings. The film ended with the newspaper headline: "TRIAL ENDS JURY FINDS ARTHUR BALEN GUILTY"
The Amazing Transplant (1970): The Opening Scene
Movie Title Screen

Notes


Love Toy (1971)

Tagline: "He knew all the games...She was the plaything!"

Facts: Wishman's first soft-core color feature film was Love Toy (1971), followed by others - see below.


Plot: In this sleazy non hard-core thriller, compulsive gambler Marcus (Vic Lester/Larry Hunter) lost his own nubile teen daughter Chris (Pat Happel) due to his habit of gin rummy. She became the sex slave of fiend Alex (Bernard Marcel) and his wife Mary (Willa Mist/Uta Erickson) - as an object or 'love toy' for various humiliating, role-playing perversions, such as domination, spanking, incest, oral sex, bondage, fetishism. After a while, Chris was converted to enjoying being a 'love toy' - but was it only a dream?
Movie Title Screen

Notes


Keyholes Are For Peeping (1972)

Tagline: "Will Titillate The Cockles of Your Heart!"

Facts: This was Wishman's first attempt at sex comedy or parody.

Plot: Nebbish, Jerry Lewis-like Stanley Bebble (Sammy Petrillo) took a correspondence course in marriage counseling, and then solicited his neighbors with hand-written business cards. He discovered his apartment building's superintendent Manuel was a Peeping Tom into keyholes. Stanley took it upon himself to counsel Manuel in finding a real girlfriend for sex.
Chesty Morgan Films (1974)
Then, she hit it 'big' with two low-budget thrillers, Deadly Weapons (1974) and Double Agent 73 (1974), both starring Chesty Morgan, a Polish-born stripper with an enormous bust. She was named for her large physical endowments (73-32-36), although there was little sex and only a minor amount of nudity in the films.
Movie Title Screen

Notes


Deadly Weapons (1974)

Tagline: "Watch the mob get busted when Chesty takes her revenge."

Facts: Doris Wishman's notorious and off-beat sexploitation film was advertised as featuring Polish burlesque stripper and star Chesty Morgan's (real name Lillian Wilczkowsky) 73-inch enormous and grotesque bustline (her complete measurements: 73-32-36).

Plot: Chesty starred as an ad executive Crystal (billed as Zsa Zsa) - she was in love with a seedy, gangster named 'Hook' Larry (Greg Reynolds/Richard Towers), who was known to the Mob for stealing a black book of names and addresses. She sought revenge when two other mobsters, eye-patched Captain Hook (Mitchell Fredericks) and Tony Barler (Deep Throat porn star Harry Reems) eliminated Larry. First, to lure Captain Hook to her room, she performed an unsexy and lethargic striptease in a Las Vegas club. Then, she drugged him with a mickey and then smothered him with her mammoth 'deadly weapons' on the sofa -- it was the first of two such murders (to the sound of ten-pins falling). Her next target was Tony in Miami.
Movie Title Screen

Notes


Double Agent 73 (1974)

Tagline: "Watch out for the booby traps...They're explosive."

Facts: This was considered a semi-sequel to Deadly Weapons (1974).

Plot: Chesty Morgan portrayed Jane Tennay (aka Agent 73), a big-breasted secret agent. Her objective was to eliminate heroin drug-pushers (with inferior low-grade products), led by underworld drug king Ivan Toplan (Louis Burdi). She was outfitted via a surgical operation above her left breast, with an implanted spy camera - to photograph enemy agents. She was unaware that her agency had also planted a time-triggered bomb inside the camera - in case she was ever captured. By the film's conclusion, it was revealed that her own love interest was the lead criminal Ivan - she shot him to death when he asked her to marry him.
Double Agent 73 (1974)



Wishman: Soft-Core Features (Mid-1970s)
When more explicit sex was demanded by the mid-1970s, Wishman directed a few soft-core features, although reportedly wasn't present on the set when some of the more revealing hard-core sex scenes were shot. Satan Was a Lady (1975) was the first of two hard-core films that Wishman directed (with the pseudonym Kenyon Wintel), although she undoubtedly left the most hard-core scenes for others to direct. She publically denied making the hard-core Come With Me My Love (1976).
Movie Title Screens


Satan Was a Lady (1975)


The Immoral Three (1975) (aka Hotter Than Hell)


Come With Me My Love (1976)
Soft-Core Films (mid-1970s)

Satan Was a Lady (1975)

The Immoral Three (1975)
(aka Hotter Than Hell)

Come With Me My Love (1976)
Wishman's Other Features (Late 1970s and Into the 1980s)
Movie Title Screen

Notes


Let Me Die a Woman (1977)

Tagline: "Born a Man. Let Me Die a Woman. All True! All Real! See a Man Become a Woman Before Your Eyes!"

Facts: Wishman's film was a semi-documentary (shockumentary) about gender dysphoria and sex change.

Plot: Included was medical transformation post-op, sex reassignment footage after changing a man to a woman, and the notorious chisel scene when a hermaphrodite re-enacted excising his own penis with a hammer and chisel.
Movie Title Screen

Notes


A Night to Dismember (1983/1989)

Tagline: "Lust, Betrayal, and Dismemberment..."

Facts: This was Wishman's 27th feature, an incoherent gory, slasher horror cult film. It was her first and only horror film. Although the film was shot in 1979 and finally completed by 1983, it wasn't released on video until 1989. It was entirely narrated by the voice-over of Detective Tim O'Malley without additional dialogue from the characters: ("I'm Tim O'Malley. I'm a detective. The story I am going to tell you happened in October 1986 in Woodmire Lake, a small town in the Midwest").

Murder of Bonnie Kent in Opening Scene

Plot: The film opened with the bloody, axe-wielding bathtub murder of a nude Bonnie Kent by her elder sister Susan Kent, who afterwards fell on the axe and killed herself. The sequence was somewhat unrelated to the remainder of the film. Two other murders happened in rapid succession - the killing of their mother Lola Kent (Cindy Boudreau) (also murdered in a bathtub) by her husband Mr. Broderick Kent (Levi Richards), who then hanged himself.

Six years later, The Kent family's young niece, Vicki Kent (Samantha Fox porn star) was released from the Brandt Hospital for the Criminally Insane after serving just five years for murder. Vicki went to live with her father Adam (Saul Meth), her mother Blanche (Miriam Meth), and her two scheming, jealous and conspiring siblings Mary Kent (Diane Cummins) and Billy Kent (Bill Szarka) - members of a murderous and cursed family. Subsequently, Vicki (and others) went on a killing rampage involving dismemberment (spikings, impalements, stabbings, knifings, etc.) - mostly caused by her siblings who appeared to be framing Vicki for the many murders, or were trying to drive her crazy, in order to send her back to the state asylum.
Movie Title Screen

Notes


Satan Was a Lady (2001)

Tagline: "Evil comes in many shapes, she just had the best one..." and "She worked the corner of Sin and Shame!"

Facts: After a 17 year hiatus (from 1983 to 2000), Wishman made a comeback film - Satan Was a Lady (2001), a remake of her own film from 1975 (starring Annie Sprinkle).

Plot: This latest lurid pulp melodrama told about a red-haired, curvy, and sadistic dominatrix-stripper and hooker named Cleo Irane (Honey Lauren) who was obsessed with a fur coat and other luxuries. In the opening sequence, she wore a mask as she viciously whipped a bare-backed man until she drew lots of blood. Her plan to blackmail a rich businessman client John King (Edge) didn't turn out well.
Wishman's Last Two Films (Released Post-Humously):
Movie Title Screen

Notes


Dildo Heaven (2002) (aka Desperate Desires)

Tagline: "Wild, wicked and wanton!"

Fact: The film, a soft-core sex comedy (with surreal dream sequences), had its official world premiere at the New York Underground Film Festival in early 2002. It was a direct-to-video feature.

Plot: Three lusful female roommates struggled with their Peeping Tom neighbor, wished to seduce their bosses for sex, and enjoyed the pleasures of owning a dildo.

Each Time I Kill (2007)

Tagline: "A shocking story revealing the brutality of innocence!"

Fact: This last film written and directed by Wishman, was shot in 2002.

Plot: It was a teen horror thriller about a magical, mystical locket. If its shy high-school teenaged owner Ellie Saunders (Tiffany Paralta) committed a murder, she could claim a physical attribute of the victim.
Sex in Cinematic History
History Overview | Reference Intro | Pre-1920s | 1920-26 | 1927-29 | 1930-1931 | 1932 | 1933 | 1934-37 | 1938-39
1940-44 | 1945-49 | 1950-54 | 1955-56 | 1957-59 | 1960-61 | 1962-63 | 1964 | 1965-66 | 1967 | 1968 | 1969
1970 | 1971 | 1972 | 1973 | 1974 | 1975 | 1976 | 1977 | 1978 | 1979 | 1980 | 1981 | 1982 | 1983 | 1984 | 1985 | 1986 | 1987 | 1988 | 1989
1990 | 1991 | 1992-1 | 1992-2 | 1993 | 1994-1 | 1994-2 | 1995-1 | 1995-2 | 1996-1 | 1996-2 | 1997-1 | 1997-2 | 1998-1 | 1998-2 | 1999-1 | 1999-2
2000-1 | 2000-2 | 2001-1 | 2001-2 | 2002-1 | 2002-2 | 2003-1 | 2003-2 | 2004-1 | 2004-2 | 2005-1 | 2005-2 | 2006-1 | 2006-2
2007-1 | 2007-2 | 2008 | 2009 | 2010 | 2011 | 2012 | 2013 | 2014 | 2015 | 2016 | 2017 | 2018 | 2019 | 2020
Index to All Decades, Years and Features
---



---